About us
Our Company (MAGALHAES PALHEIRA CARMEN SOFIA d.i.) has been operating in the real estate brokerage sector for many years. Today, in the tradition of professionalism, seriousness and transparency consolidated and conquered over time, it follows the new path of the Grimaldi family which, thanks to its traditions and solid deep roots, has created the first circuit of prestigious professional real estate agents who identify themselves under a only image: IMMOBILIARE.COM.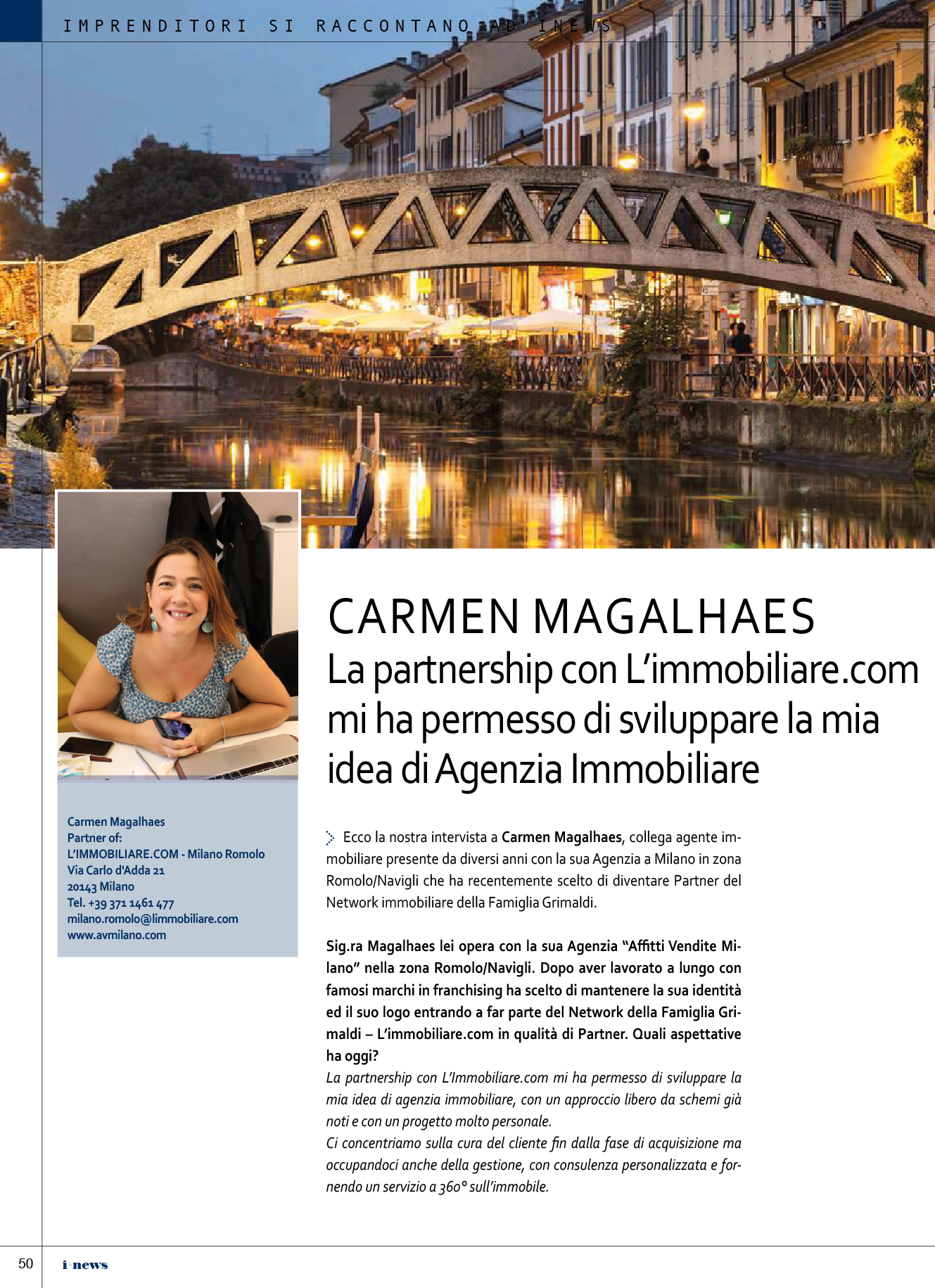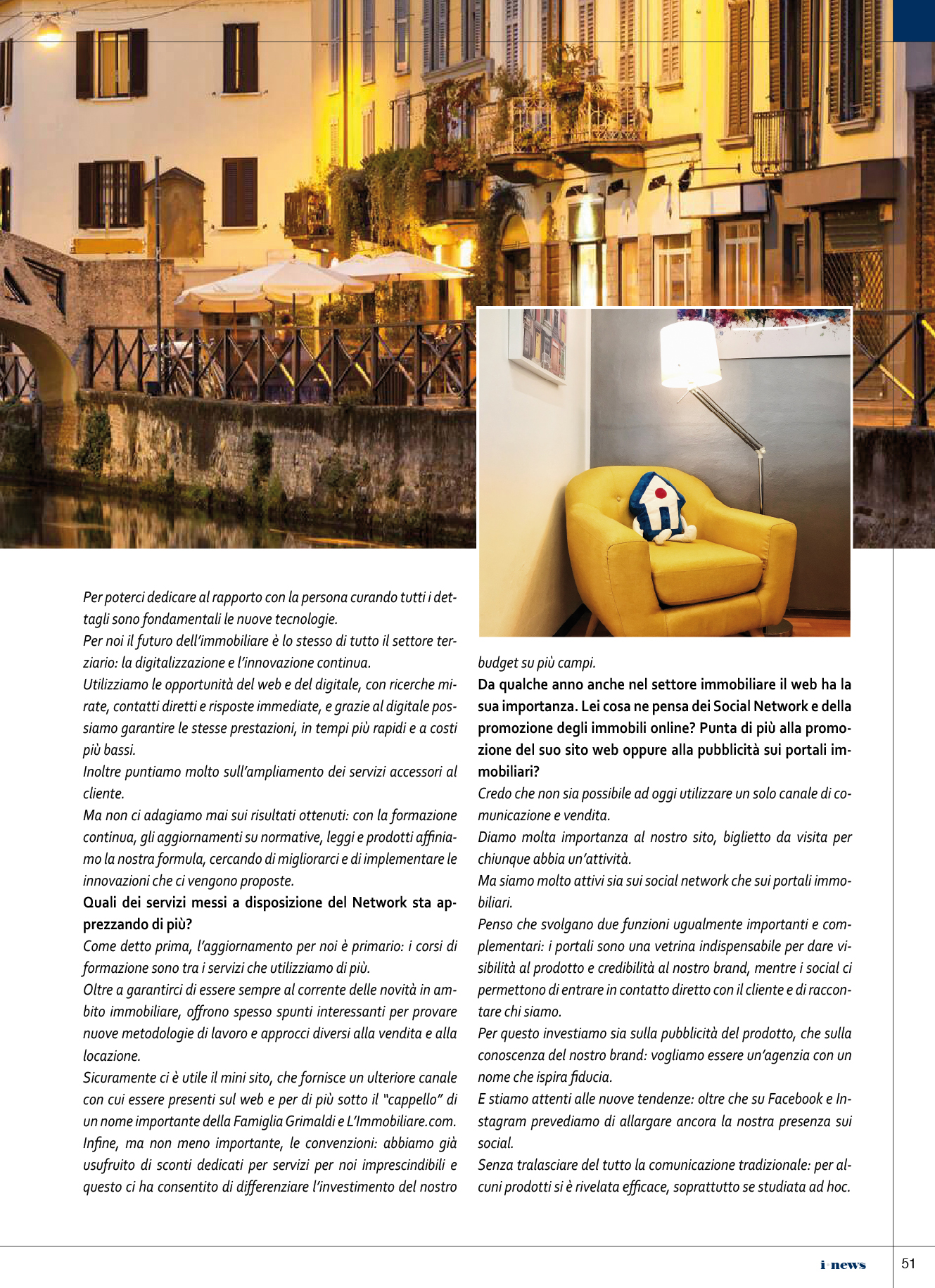 The partnership with L'immobilire.com allowed me to develop my idea of a real estate agency
> Here is our interview with Carmen Magalhaes, a fellow real estate agent who has been present for several years with her agency in Milan in the Romolo / Navigli area who has recently chosen to become a Partner in the Grimaldi Family's real estate network.
> Ms. Magalhaes, you work with her "Affitti Vendite Milano" agency in the Romolo / Navigli area. After having worked extensively with famous franchise brands, she has chosen to maintain her identity and her logo by joining the Grimaldi Family Network - L' immobiliare.com as a Partner. What expectations do you have today?
The partnership with L'Immobiliare.com has allowed me to develop my idea of a real estate agency, with an approach free from already known schemes and with a very personal project. We focus on customer care right from the acquisition phase but also take care of management, with personalized advice and providing a 360° service on the property. In order to be able to dedicate ourselves to the relationship with the person, taking care of all the details, new technologies are fundamental. For us, the future of real estate is the same as that of the entire tertiary sector: digitization and continuous innovation.
We use the opportunities of the web and digital, with targeted searches, direct contacts and immediate answers, and thanks to digital we can guarantee the same services, faster and at lower costs. We also focus a lot on expanding the accessory services to the customer. But we never settle on the results obtained: with continuous training, updates on regulations, laws and products we refine our formula, trying to improve ourselves and implement the innovations that are proposed to us.
> Which of the services made available to the Network are you appreciating the most?
As mentioned before, updating is primary for us: training courses are among the services we use the most. In addition to ensuring that we are always up to date with real estate news, they often offer interesting ideas for trying out new working methods and different approaches to selling and leasing. The mini-site is certainly useful for us, as it provides a further channel with which to be present on the web and moreover under the "hat" of an important name such as Grimaldi and L'Immobiliare.com. Last but not least, the agreements: we have already taken advantage of dedicated discounts for services that are essential for us and this has allowed us to differentiate the investment of our budget across several fields.
> For some years, the web has also had its importance in the real estate sector. What do you think of social networks and the promotion of online properties? Do you focus more on promoting your website or advertising on real estate portals?
I believe that today it is not possible to use only one communication and sales channel. We attach great importance to our site, a business card for anyone with a business. But we are very active both on social networks and on real estate portals. I think they perform two equally important and complementary functions: portals are an essential showcase to give visibility to the product and credibility to our brand, while social networks allow us to come into direct contact with the customer and tell who we are. This is why we invest in both product advertising and awareness of our brand: we want to be an agency with a name that inspires trust. And we are attentive to new trends: in addition to Facebook and Instagram, we plan to further expand our presence on social networks.
Without completely neglecting traditional communication: for some products it has proved to be effective, above all if studied ad hoc.